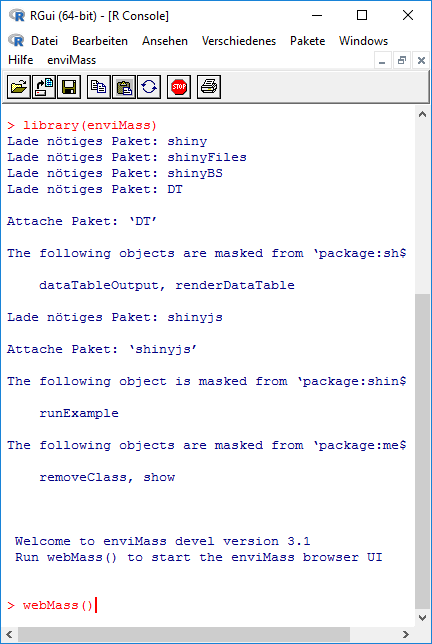 enviMass organizes data inputs and tasks into projects. Each such project can contain its own inputs and settings and can be copied to other file locations. To set up a new project, first start the workflow user interface (UI) by opening the R console and executing the commands:
library(enviMass)
webMass()
After some loading, the enviMass startup UI appears. Its sidebar (shown to the right) allows you to set up a new project: specify a path to a folder that will contain the project (the project directory) and specify a name for your project. After pressing the
Start
button, the project directory should now contain a folder with the project name. This folder contains several subfolders and a file called
logfile.emp
. The latter keeps track of your project and must not be modified.
To erase a project, simply delete the folder with the project name. To copy a project to a different location, you must copy the full project folder. Given the size of LC-MS files, make sure the project directory has plenty of space and can be written to.